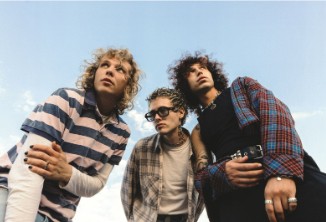 Beauty School Dropout Make Sure Everyone is READY TO EAT
In celebration of their new album READY TO EAT, L.A. trio Beauty School Dropout are giving back to the community on their current U.S. headline tour. For every radio, press, + DSP attendee, the band will donate a meal to local food banks in each tour market. 
If you'd like to attend the show and help a good cause, you can be added to the list by sending an email to music@goldnretrieverent.com. Once at the show, send a picture of the band on stage to the same email and a meal will be donated in your name. 
Fans will be encouraged to donate digitally at each show via QR code, which will be posted at various points throughout the show, and all donations will go directly to the food pantry partner.
"READY TO EAT is the culmination of our high highs, low lows and everything in between," says the band. "The album is a sonic spiral through our personal struggles with addiction, relationships and love (or lack thereof). The album is meant to be a reflection of our growth and our intentions to overcome every obstacle that life throws our way. From the last album to this one we have traveled the world, performed in places we never felt possible, gained fans all over but still have to deal with the trials and tribulations that are being a band putting 500% into our career. As much as it looks from the outside that our lives are skyrocketing, we are still dealing with the same issues we have been for years, only amplified. This album is our purge to our fans and an expansion and growth from where we started and a glimpse into where we are going."
Beauty School Dropout was signed by A&R Mark Hoppus under the new label Verswire with Pete Wentz and Sherry Saeedi. Hoppus said, "I'm always impressed by how hard these guys work, their talent and uncompromising creativity, and their dedication to their fans."
Below are the upcoming Beauty School Dropout tour dates:
OCT 30 – WASHINGTON DC – DC9
OCT 31 – PHILADELPHIA PA – KUNG FU NECKTIE  
NOV 2 – NEW YORK NY – GRAMERCY
NOV 4 – ASBURY PARK NJ – WONDER BAR
NOV 5 – CAMBRIDGE MA – SONIA
NOV 7 – PITTSBURGH PA – THUNDERBIRD CAFE & MUSIC HALL
NOV 9 – COLUMBUS OH – A&R BAR
NOV 10 – CLEVELAND OH – GROG SHOP
NOV 12 – NASHVILLE TN – THE END
NOV 15 – CHICAGO IL – SUBTERRANEAN
NOV 17 – KANSAS CITY MO – THE RINO
NOV 19 – DEVER CO – GLOBE HALL
NOV 21 – SALT LAKE CITY UT – KILBY COURT
DEC 1 – SAN DIEGO CA – HOUSE OF BLUES VOODOO ROOM
DEC 2 – LOS ANGELES CA – TERAGRAM BALLROOM
DEC 5 – PORTLAND OR – HOLOCENE
DEC 6 – SEATTLE WA – CHOP SUEY
DEC 9 – SAN FRANCISCO CA – BRICK & MORTAR