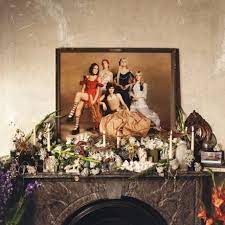 The Last Dinner Party Announce Debut Album
The Last Dinner Party announce their debut album, Prelude To Ecstasy, will be released on February 2nd via Island Records. It was produced by James Ford in London, and will feature the band's breakthrough single, "Nothing Matters," which is heading Top 20 on the Alternative chart.
To coincide with the album's announcement, the all-female quintet also shared another new track, "On Your Side." It's the fourth new offering from the forthcoming album following "Sinner" and "My Lady Of Mercy."
About the album, The Last Dinner Party had this to say, "Ecstasy is a pendulum which swings between the extremes of human emotion, from the ecstasy of passion to the sublimity of pain, and it is this concept which binds our album together. This is an archeology of ourselves; you can exhume our collective and individual experiences and influences from within its fabric. We exorcised guitars for their solos, laid bare confessions directly from diary pages, and summoned an orchestra to bring our vision to life."It is our greatest honour and pride to present this offering to the world, it is everything we are."
The UK band is currently on a sold-out tour of the U.S. tour dates. The upcoming tour dates include November 2nd in New York at Bowery Ballroom, November 4th in Philadelphia at Johnny Brenda's, November 6th in Los Angeles at El Rey Theatre, and November 9th in Chicago at Bottom Lounge.