Alternative New Music Friday
Happy Friday! Before we dive into New Music Friday, I wanted to share ratings highlights from the latest batch of Nielsen October '23 Monthly 12+ results. Congrats to Joe Siragusa at WEDG (103.3 The Edge)/Buffalo (2.9-3.4) and Joe D at WAQX (95X)/Syracuse (3.9-4.4). 
Busy week of new releases. This week's New Music Friday albums include AJR The Maybe Man accompanied by a massive tour announcement and TV appearances. I also have all the details in Music Info on Jared Leto climbing up the Empire State Building yesterday and announcing Thirty Seconds To Mars Seasons World Tour 2024. It's been a quiet week on the Alternative Radio News front. Got news? Give me a shout.
The latest Photos posted in the Radio And Records Exposure page include Vacations with KRXP/Colorado Springs PD Carly Evans, Mac Saturn with WGHL (ALT 105.1)/Louisville PD Phil Kukawinski, and Autopilot make a morning show landing at KQCJ (Planet 93.9)/Quad Cities. Let's kick off with New Music Discovery available now for airplay.
This Week's New Music Discovery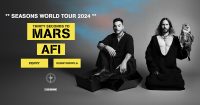 To coincide with Leto's Empire State Building stunt (more below), the new Thirty Seconds To Mars "Seasons" was officially released yesterday via Concord. It's the follow up to the #1 lead single "Stuck" from the band's sixth studio album, It's The End Of The World But It's A Beautiful Day, released in September. The new single, "Seasons" asks if we can accept change as we move through the many different seasons of life.
Listen & Download to "Seasons" HERE.
Norwegian's AURORA returns with her new single "Your Blood" via Glassnote. The new music follows the announcement of her very first book, The Gods We Can Touch, out on November 16th.
Co-written, produced and recorded by Chris Greatti (Gaga, Willow, Yungblud, Grimes) in Los Angeles and mixed by Mitch McCarthy (Olivia Rodrigo, Lady Gaga, Conan Gray), the track finds AURORA letting her guard down. AURORA explains, "The world is always bleeding. And you never know what is going on under people's skin. I think it's only when we reach out to each other, that we understand what compassion and beauty we are capable of as human beings. Even if we can't understand what people are going through: we should still try. If we don't, what is a life truly worth? " 
Listen & Download to "Your Blood" HERE.
Thanks for visiting #HAPPENS, your new destination for Alternative Community. 
Find all the latest updates on the pages above to get The Latest Alternative News, New Music Discovery Picks, New Artist Discovery Of The Week, Music Info, Singles, Albums, Famous Firsts, Photos, and a Rolodex for Radio And Records. Let me know if you have any updates.