Alternative New Artist Discovery Of The Week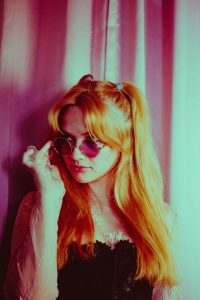 VIP Access with Ella Red. Let's meet Ella.
| ARTIST | Ella Red |
| --- | --- |
| SONG | "Put Your Money Where Your Mouth Is" |
| LABEL | Unsigned |
| ORIGIN | Frisco, TX |
1. Please introduce yourself and give us the backstory on how you got started.
Hey! I am Ella Red and I'm a 20 year old recording artist from Frisco, Texas. I was introduced to music very young, we had an old piano in our house growing up and my mom would sometimes play it. I remember being 6 years old and asking her to teach me, but she was a busy mom and didn't have the time so I said "Fine, I'll do it myself!" and started picking up my lullabies on the piano after singing them myself and matching the notes. Since then I've picked up multiple instruments, including the cello, which I excelled at in my middle and high school years. I didn't begin to take writing lyrics seriously until freshman or sophomore year when my mental health was at one of its lowest points.
2.How would you describe your music?
I would describe my music as an "alternative pop" sound, pushing as far in every direction as I can go. Some of my next songs lean more pop or rock or even folk, but we keep it pretty consistent with the alt-pop edge.
3. Who are your biggest influences?
My biggest influences come from other artists with a sound similar to mine, like Chandler Leighton and Dove Cameron, but I get most of my inspiration from my own life and the lives of those around me. I find that I do my best work lyrically when I can really connect to and embody the story I'm telling.
4. What was the inspiration behind your current single, "Put Your Money Where Your Mouth Is"?
My current single "Put Your Money Where Your Mouth Is" was heavily inspired by hookup culture today, which has been ultimately ruining so many good relationships. In this song, I wanted to highlight what happens after that initial rush that only lasts a few months and what you're left with after- "Funny how you talk like you actually know / when that rush you felt, I can tell, is starting to slow". The flowers stop coming, the arguments begin, and you lose that honeymoon feeling, so all that big game your partner was just talking about goes down the drain and now you're just an afterthought to their nights smoking with their friends. It's like getting a brand new toy and loving it for a few days, then it gets left on a shelf for when you remember it exists again. It's exhausting.
5. What would surprise people most about you?
My parents say I have a very dark and scientific sense of humor. I regularly word-vomit disturbing questions or facts I learned about during the week and it often takes my mom for a spin, she's the most common victim of my curiosities.